Welcome to the Human Rights in Patient Care Website!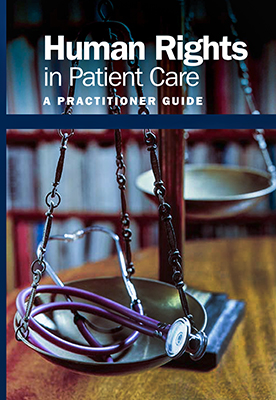 This site was created to address the legal, ethical, and human rights norms which are increasingly important to the delivery of quality patient care. In our experience, health systems can too often be places of punishment, coercion, breaches of confidentiality, and violations of the right to consent, rather than places of treatment and care. At the same time, doctors and health practitioners are often constrained in their ability to provide quality care to their patients, or are unaware of how to incorporate ethical and human rights norms into their work.
This website unites the country sites of Armenia, Georgia, Kazakhstan, Macedonia, Russia and Ukraine, with Kyrgyzstan coming online soon. The centerpiece of each site is "Human Rights in Patient Care: A Practitioner Guide." These guides, customized to reflect the legal reality of each nation, include relevant laws and regulations, cases, tools, sample forms, and practical tips for lawyers defending the human rights of both patients and health care providers. The field of human rights in patient care is constantly changing and evolving and periodic updates of the Practitioner Guides will be available on the country sites. The websites also provide ways to connect lawyers, health providers, and patients concerned about human rights in patient care.
By working together, we will be able to increase the protection of human rights of patients and health care providers in the provision of patient care.